Change Log
What is being worked on?
The Plannin Poker change log is a place where you can see what has been released recently. This application is still activity being developed and changes are made often. If you have any suggestions or feedback, please let us know. There is a feedback button on the user menu, in the top right corner of the screen.
The Latest Changes to Plannin Poker
Sprint Retrospectives - 20 November 2023
We have added the ability to create Sprint Retrospectives! Sprint Retrospectives are a great way for your team to reflect on the previous sprint and identify areas for improvement. They can also be a lot of fun and help to build team morale! At the time of this post, Sprint Retrospectives are only available from inside of a teams space. As we continue to develop this feature, we will be adding the ability to create Sprint Retrospectives without a space. Plannin Poker started out as a tool for planning poker, but we want to be more than that. We want to be a tool that helps your team plan, reflect, and improve. We hope that you enjoy this new feature and we look forward to hearing your feedback! Keep an eye out for more updates in the future!
Duplicate Planning Poker Sessions - 04 November 2023
Tired of setting up all of your planning poker sessions from scratch? We've got you covered! You can now copy your planning poker rooms, including all of the cards and settings. You can now copy your sessions from within your previous games, inside of your teams space, or while creating a new game! We want to make it as easy as possible to get your planning poker sessions up and running, so you can focus on what matters most: planning! When you copy a room, you will be creating a new game, with all of the cards, settings, and tags from the copied room. If you want teams to copy over, I recommend setting up a space for your team.
Voting Scale Labels - 08 October 2023
Can't remember the difference between a Medium and a Large? We've got your back! We have added the ability to add labels to your voting scale, letting you define what each card means to your team. When creating or editing your cards, you'll now see a button to add labels to each option. Once you've added your labels, users will see them when hovering over the options. If you don't add any labels, the cards will be displayed as normal. Labels are a great way to ensure that everyone is on the same page when voting, and can help to reduce confusion and improve the accuracy of your estimations.
Jira Integration! - 24 September 2023
We have added the ability to import tickets from Jira! This is a great way to quickly get your tickets into a planning poker session. You can import tickets from a Jira board, or from a CSV file. Once you have setup the Jira integration, you can easily search and import your tickets into your planning pokers sessions. While the integration is still active, your tickets will be automatically updated with the winning vote from each round! Jira has a really powerful searching language called JQL that allows you to search for tickets in many different ways. We have added a JQL search bar, so you can easily search for the tickets you want to import.
Learn More
Enhanced Analytics - 15 September 2023
Who doesn't love a good bar chart? We certainly do, and we've just made your planning poker experience even better with our latest update: Enhanced Analytics! Why analytics though? The power of data-driven decision-making is undeniable, and it's now at your fingertips within your planning poker sessions. With our new analytics feature, you can take a closer look at how your team is estimating tasks and gain a deeper understanding of how your planning sessions are progressing. To view the analytics for a room, click on the analytics icon in the main room menu. This will open a modal, where you can view the analytics for the room. You can also download the analytics as a CSV file, by clicking on the download icon.
Team Spaces! - 08 August 2023
This is a big one! We have added the ability to create spaces. Spaces are a way for you to manage multiple planning sessions, for your organisation or team. You can create a space, invite your team, and then create rooms for your planning sessions. With spaces, your tags, teams, and permissions are shared across all of your rooms. This makes it easier to manage your planning sessions, and keep everything organized. Create as many Spaces as you would like! Create a Space for your team health checks, planning sessions, or anything else you can think of! We plan on adding in analytics and more features to Spaces in the future, so stay tuned!
Learn More
Adding Tags to Tickets - 16 August 2023
With the latest update, you can now create and add custom tags for your tickets, making your sessions more organized then ever. To add a tag, simply click on the add tag icon after creating a ticket and select the tag you want to add. You can also create a new tag by clicking on the 'Manage Tags' button. To remove a tag, click on the tag icon and click on the tag you want to remove. This is just the beginning for tags. We plan to add more support very soon, like filtering, searching, and analytics. Get started with tags today!
CSV Download - 12 August 2023
Want to download the data from your planning session? Now you can! With this update, you can now download all of your tickets and their data into a CSV file. There are two ways to download your tickets, either by clicking the download icon, in the options menu, when in a room. Or by clicking the download icon when viewing your previous games. We hope this feature helps you get the most out of your planning sessions. If you have any feedback, or suggestions for the csv export, please let us know with the feedback button on the top right!
Add Support for 5 Languages - 22 July 2023
You can now use Plannin Poker in 5 languages: English, Spanish, French, Hindi, or Portuguese! Invite your team to play a game in their native language! To change your language, open the user icon on the top right hand corner of the screen and select 'change language'. Once your language has been set, it will automatically be remembered and used every time! There are many languages that we would like to support, we just picked some that are popular with our users. If you would like to see your language supported, please let us know!
Bulk Edit Tickets - 11 July 2023
Creating, Editing, and Deleting a large amount of tickets can be a very time consuming. We wanted to create a way where users could do this for many tickets at once. With the new bulk edit modal, this is not possible. You can create new tickets, quickly edit existing tickets, and bulk delete all in one place. To open the bulk edit modal, click on the ticket menu button, next to the create round button. This will open the modal, where you can create new tickets, edit existing tickets, and bulk delete tickets.
Screen Sharing Mode - 30 June 2023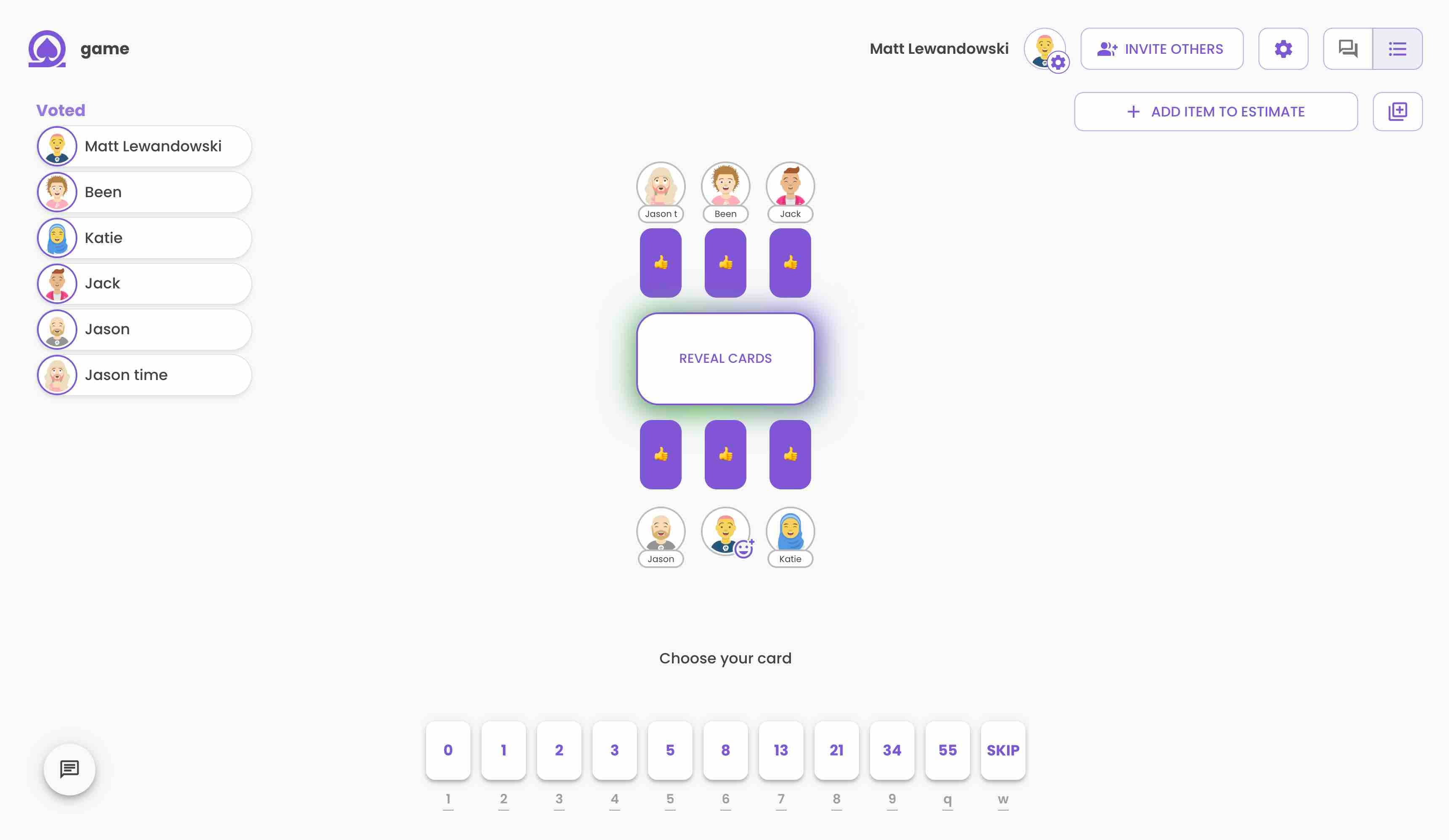 We know that sometimes scrum leaders are also voting, while sharing their screen of the game in a meeting. We wanted to make this experience better, without having to have multiple screens open. So we created a screen sharing mode. This mode hides your vote from being displayed, and allows you to vote from your keyboard. When this mode is enabled, each card will have a character underneath it, that you use to vote. To enable this mode, click on the user menu when you are in a game, and toggle on Screen sharing. Your votes are now hidden and you are ready to start voting with your keyboard!
Support for Smaller Screens - 30 June 2023
Teams get together to plan on all sorts of devices. We are always looking for ways to improve the experience as much as we can, for any screen size. With this update, we have added better support for smaller screens. This means various little updates, like making the table one sided at certain screen heights. This also makes for a better mobile experience, as users in small games should not need to scroll. The room is now completely dynamic and will change to fit your screen, while maintaining all of the functionality.
Ability to Create Teams - 12 June 2023
We have added the ability to create Teams. You can now group your users into teams, and the results for each team will be displayed separately. Users that are in a team will now have a tag next to their name, to indicate what team they are in. This feature is really useful when voting on user stories, when multiple teams are involved. You can now all vote together, and see the results from each team separately.
Better Voting Statistics - 05 June 2023
We have added more voting statistics to the end of each round. When hovering over the donut at the end of a round, you will now see the rounds Average, Median, Range, and Mode. We have incorporated a comprehensive set of voting statistics to provide you with a holistic view of your team's estimations.
Detailed Tickets and Stories - 11 May 2023
We have added a markdown text editor to the ticket and story description. This allows you to add more detail to your tickets and stories. This is useful for adding acceptance criteria, or any other information that you want to share with your team. With these changes, you can now also add a ticket ID and Link to your tickets. This is useful if you are using an external ticketing system, such as Jira or Trello and you want your team to be able to quickly navigate to the ticket. When a round has been revealed, you can now find the results from that votes on the ticket. We now display cards at the bottom of the tickets, showing the vote history. When importing a CSV of tickets, there is now a toggle to convert Jira descriptions. Jira uses a system different to markdown, so this toggle will convert the Jira description to markdown, so you can keep all of your formatting.
Asynchronous Planning Poker - 9 May 2023
We have added the ability to run asynchronous planning poker sessions. This allows you to create a room, add tickets and stories, and then share the room with your team. Your team can then join the room and vote on the tickets and stories. When the room is set to asynchronous, users will have the ability to navigate between all of the tickets, leaving their vote and a comment. The asynchronous setting can easily turned on and off from inside the room, so you can resume a normal game when everyone is done voting, or you can reveal the round to check everyones votes.
Learn More
Password Protected Rooms - 5 May 2023
You can now secure your room with a password. Password protected rooms require users to enter the password before being shown anything for the Planning Poker room. When joining, users will be presented with a pop up, asking them to enter the password before continuing. The user will only be asked to enter the password once. If they correctly answer the question it will be saved onto their session and they can now enter the room freely. When creating a link for a password protected room, you will be given the option to include the password. This will add the password to the link, and automatically enter it for the user.
Round Comments - 18 April 2023
We have added the ability for a team to communicate within the app. Every round now has comments, so your team can discuss the ticket or story that is being voted on. Comments are only relevant to the current round, when the next round is started the comments section will be cleared. This is to ensure that the comments are relevant to the current ticket or story. To add a bit of fun, we have also added the ability to send GIFs in the comments. This is a great way to add a bit of fun to your planning poker sessions.